Ski Resort Marketing
May 17
Une video à couper le souffle pour l'ouverture du bikepark de Whistler
Aurélien de PIERREFEU's insight:
La station de Whistler Blackcomb nous démontre un fois de plus sa maitrise parfaite du Storytelling. Le résultat ? Des images parfaites et une vidéo qui donne tout simplement envie que l'on soit adepte ou non du VTT de descente.
See on youtube.com
May 13
Ski de vagues - Wave Skiing
Chuck Patterson is a former pro Freeskier, a professional Waterman. After a brief experiment with skiing on waves several years ago, Chuck's passion for the idea was re-lit after watching Mike Douglas and Cody Townsend ski the waves of Maui in 2009. In January 2011, Chuck followed the biggest swell of the year to Maui, to see if he could see if he could successfully ski Pe'ahi or 'Jaws' — one of the most powerful waves on earth.
Aurélien de PIERREFEU's insight:
En attendant la saison prochaine, voici un autre type de ski.
See on youtube.com
May 10
Chinese ski industry: A fresh market finds its feet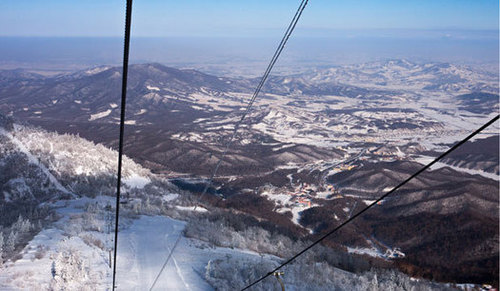 In 2010 there were more than 5 million skiers in China, up from 10,000 in 1996 and 200,000 in 2000. The China Ski Association predicts this figure will rise to 20 million skiers by 2015, with an industry worth US$629 million ($740 million). Ask how many ski resorts there are and you'll encounter varied answers. A 2012 China ski study report commissioned by the Canadian Tourism Commission puts the resort figure at 70 with more than 200 ski facilities. "The China market is not an advanced-skier market, they are mainly beginners and so are the ski fields," Grant says. "While some resorts are spending hundreds of millions of dollars on creating five-star hotels and facilities, most of the mountain resorts close to Beijing are mainly man-made snow, and shorter, beginner-style runs. But while the quality of the lift systems and spa resorts are top notch, the quality of service, including ski instruction and ski patrol, is sub-par. Some resorts say that 80 per cent to 90 per cent of first-timers won't revisit."
See on i.stuff.co.nz
May 04
New Speed Record On Mont Blanc - from the summit to the centre of Chamonix in 32 Minutes!
New Speed Record On Mont Blanc - 14km in 32 Minutes!
French skiers Antoine Montegani, Nicolas Anthonioz and a bunch of their friends have finally completed a project that had been in the pipeline for the last three years: making it from the summit of Mont Blanc down to the centre of Chamonix in record time. They skied down to the snow limit, ran through the forest and got lost along the way then hopped on their bikes with ski boots on and pedalled all the way to the church on Chamonix's main square. An incredible 32 minutes later, Nicolas made it, and although being stoked on his performance, vowed never to do anything like that again!
See on youtube.com
May 03
Best and Worst Marketing, 2012-13 - Annual review of US ski resort marketing efforts.
It's been 10 years since SAM first took up the best/worst quest. In the old days, this was mostly a matter of reviewing ads in magazines. But media have changed tremendously, and as a smart guy once said, "the medium is the message." Resorts now have a lot of stories to tell, and many ways to tell them. As do their guests.
Aurélien de PIERREFEU's insight:
Retour sur le meilleur et le pire d'une saison de marketing des stations US.
See on saminfo.com
Apr 30
2013 International Report on Snow Mountain Tourism
Aurélien de PIERREFEU's insight:
Une véritable bible sur le marché mondial du ski. Ce document de référence est réalisé par le consultant suisse Laurent Vanat. D'autres publications sont également disponibles gratuitement sur le site http://www.vanat.ch/
See on vanat.ch
Apr 29
CA en hausse de 34% dans les stations de ski azuréennes
La neige a dopé l'activité des 15 stations de ski des Alpes-Maritimes qui annoncent pour la saison d'hiver 2012/2013 un chiffre d'affaires global de 18,35 M€, en hausse de 34% par rapport à l'hiver précédent. Les petites stations comme La Colmiane, Roubion et  Turini, souvent pénalisées par un faible enneigement, enregistrent une croissance à trois chiffres alors qu'à Isola 2000, confrontée à une concurrence accrue, l'activité est restée stable. Malgré une politique d'investissement significative, 150 M€ ces huit dernières années qui ont surtout porté sur le domaine skiable et les équipements, les stations des Alpes-Maritimes souffrent d'une offre d'hébergement insuffisante et de qualité moyenne (9.665 lits répartis dans 245 hébergements). Pour la saison 2013/2014, 13,5 M€ seront encore investis et la priorité sera donnée, a annoncé Eric Ciotti, président du Conseil général 06, à l'hébergement  en montagne sous la houlette de Habitat 06 qui devrait créer un structure dédiée.
Aurélien de PIERREFEU's insight:
Chiffre à relativiser compte tenu du déficit très important de neige sur la saison 11/12.
See on info-economique.com
The art of alpine lavatories
Everyone can get caught short – but what do you do at 3,500 metres when there isn't a pub to nip into? One solution is to use a mountain loo, which, as Swiss journalist Marco Volken discovered, can come in all shapes and sizes. For his series of photographs "Silent Places", on display at the Swiss Alpine Museum in Bern, Volken photographed various outhouses on Swiss mountains.
See on swissinfo.ch
Apr 22
A 95 Year Old Skier
George Jedenoff is a 95 year old skier from Oakland, CA. who skis Alta, UT. With a lifetime season pass and a healthy lifestyle George shows us that skiing can be a part of any stage of life.
Aurélien de PIERREFEU's insight:
Qui a dit que le ski était un sport de jeunes ?
See on youtube.com
Apr 10
North America resorts extend season
Good snow means several resorts in the USA and Canada will be open until early summer. It is not the first time resorts have been open into the summer. This year Crystal Mountain Resort in Washington state has already announced it intends to stay open at weekends from late April until at least June 16. Blackcomb Resort will be open until May 20ththen the Blackcomb glacier will be open daily from noon to 3pm from June 22 to July 28 for summer skiing. Mammoth Mountain in California is yet to announce its summer opening plans but has more than a 4m base at present and has stayed open in to August in the past. Elsewhere, in Oregon, Mount Bachelor has announced it will be open to at least May 26th
Aurélien de PIERREFEU's insight:
A l'heure où beaucoup de stations françaises sont contraintes de fermer faute de clients et malgré l'abondance de neige, il est intéressant de noter que de l'autre côté de l'atlantique la situation semble relativement différente avec certaines stations capables d'étendre leur saison au gré des conditions météo.
See on planetski.eu